introducing readers to writers since 1995
October 13, 2006
God bless Melanie Griffith's manmade breasts
by bookgasm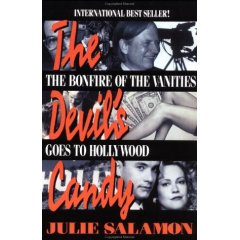 If you've seen her flash them in that Paul Newman movie or your name is Antonio Banderas, you know what we're talking about. If not, reading BOOKGASM's new weekly column on movie-related books will fill you in. In the debut entry, Allan Mott discusses Julie Salamon's excellent THE DEVIL'S CANDY, which chronicled the making of THE BONFIRE OF THE VANITIES. One of the more memorable passages in the book describes the monkey wrench she threw into the production by showing up following a holiday break with an expanded chest. Writes Mott, "one does have to give props to Griffith for making the only smart creative decision of the entire film's production, since the scene where she strips to her bra and panties (and thus shows off the results of her surgeon's skilled hands) is easily the most memorable and worthwhile in the entire movie."
Speaking of, earlier in the week, we applauded Esquire's decision to name Scarlett Johansson as the Sexiest Woman Alive. Hey, a magazine is like a book; therefore, we can cover it. We also covered the most bizarre book press release we've come across all year: one for some flowery chick-lit thing that includes a story about Saddam Hussein's testicles and tiny onions. Forty-eight hours later, I'm still scratching my head.
Reviews? We did those, too. Among the notables (clink the links to read the whole darn thing):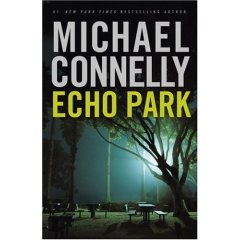 • ECHO PARK by Michael Connelly – "This well-crafted cliffhanger doesn't shortchange the reader on action, though. Woven into the tale are body parts in trash bags, shootouts, some sweet lovin', and did I mention the lesbian partner?"
• CROSSOVER by Joel Shepherd – "both a kick-ass android political action tale and a deconstruction of humanity, with both aspects are equally rewarding. (If only my elementary school math books had lusty blonde female androids in them, I would have totally learned to carry that three.)"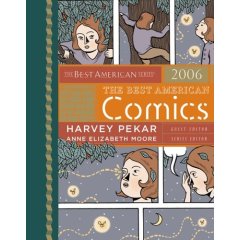 • THE BEST AMERICAN COMICS 2006 edited by Harvey Pekar – "One major caveat: For Pekar to disqualify all superhero comics from the collection simply because he doesn't like them seems to smack of the snobbery that marginalizes comics in the first place. In his own intro, he praises the idea for this book because 'it lends legitimacy to the cause of comics, my medium, and their creators.' The newcomer to comics who picks up this book may be turned off by its lack of variety, its emphasis on the serious. Strictly judging on a thumb-through, you'd think half of all U.S. comics centered on lesbianism and the war."
• THE WORLD OF JULES VERNE by Gonzague Saint Bris – "From early memories sipping seawater to depressed days as a member of a broken-hearted bachelors' club, this covers cornerstones of the writer's remarkable, prodigious life in bite-sized accounts readymade for short attention spans. As much information as it doles out on his life, it's the emphasis on his lasting literary influence that will attract most interest."
There was lots more high-octane, lowbrow bookage action going on, from Freddy Krueger to Takeru Kobayashi, so do check it out.