introducing readers to writers since 1995
April 13, 2008
Way past due
by bookgasm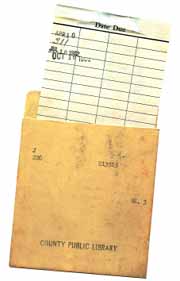 Recently we told you about BOOKGASM's list of the nine most annoying people we always see at the bookstore, which proved to be a bit controversial.
Now, BOOKGASM contributor Louis Fowler lets loose with a list of the five people who make him hate the public library system. Yes, it's written in jest. No, not everyone realizes that.
But, hey, it's not all vinegar over at BOOKGASM this week, as witnessed by reviews of Jeffrey Ford's THE SHADOW YEAR, G.M. Ford's NAMELESS NIGHT, Richard Matheson's BUTTON, BUTTON, The New York Post's HEADLESS BODY IN TOPLESS BAR, Gary K. Wolf's SPACE VULTURE, Rayo Casablanca's 6 SICK HIPSTERS, Robert Bloch's Hard Case Crime twosome SPIDER WEB / SHOOTING STAR and more.