photo courtesy Leesa Cross-Smith
I first learned about Leesa Cross-Smith in late 2017, when she wrote an essay about country musician Sturgill Simpson for Oxford American. Well, really, it was as much about her path to artistic success as it was about his, about the inspiration she drew from his work. And she said: "I got here by writing the stories I wanted to write, by not worrying about where the publishers would put me or if my readers would find me. I trust them. They trust me. They're smart, and they know what they're looking for. I may not be easily labeled, but I'm here anyway and it ain't half bad."
Well, right then, I wanted to see what she had done. So I asked her publisher about what was then an upcoming debut novel, Whiskey & Ribbons, and I'm here to tell you now: This is the real deal. You want to be in on the ground floor of Leesa Cross-Smith fandom, and this is your chance. Go for it.
I call Whiskey & Ribbons cozy and romantic. I talk often of coziness and comfort, because I am (sometimes) a naturally anxious person. Whenever I find myself worried about someone or something, real or fictional, I like to place them in a comforting spot, imagine things when they are safe and right again. In It Chooses You, Miranda July writes, "All I ever really want to know is how other people are making it through life—where do they put their body, hour by hour, and how do they cope inside of it." I rewrite things in my head and fanfic in my brain in order to fix sad endings, in order to make them okay. Coping and hope and holding on are just a few things that inspired me to write Whiskey & Ribbons.

Some years ago, a local police officer was shot and killed. His shift was soon to be over or had already ended, but he never made it home. I thought about him and his family a lot. And after 9/11 I watched a lot of interviews with the widows, specifically… the pregnant ones, the ones with small children… I listened to how they spoke about coping, about grieving, about how it felt when their worlds were turned upside down.
8 March 2018 | guest authors |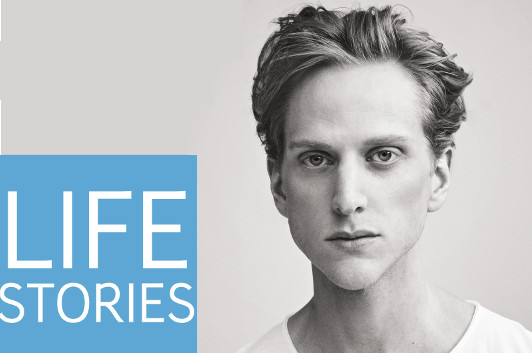 I met David Hallberg at the midtown offices of the American Ballet Theater, where they'd set aside a conference room for us to talk about his new memoir, A Body of Work. It's about his relentless quest for perfection, from his earliest days as a ballet student in Arizona to his role as a principal dancer at ABT (and as the first American to hold a position of comparative stature at the Bolshoi's dance company). But it's also about realizing that, even though he thought he was pushing himself to the limit, he was really holding himself back—and about how a career-threatening injury drove him not just into physical therapy but into a complete overhaul of his emotional approach to his craft.
As I was reading A Body of Work, I started thinking Jim Bouton's classic baseball memoir, Ball Four. Both books are by young men who've dedicated themselves to their field but find themselves coming face-to-face with the prospect of no longer being able to do the thing they love, far sooner than they'd ever anticipated. Fortunately, Hallberg was able to make the comeback, and as this episode goes online he's approaching the first anniversary of his return to the stage.
Listen to Life Stories #101: David Hallberg (MP3 file); or download this file by right-clicking (Mac users, option-click). Or subscribe to Life Stories in iTunes, where you can catch up with earlier episodes and be alerted whenever a new one is released. (If you're already an iTunes subscriber, please consider rating and reviewing the podcast!)
photo: Bjorn Iooss
18 December 2017 | life stories |
Next Page »