Every year, from Black Friday to Boxing Day, I totally immerse myself in holiday music. I used to collect my own Christmas CDs, but once I got on board with Spotify I was able to start compiling a playlist which is, as I write this post, just shy of 8,500 songs and may likely hit 9,000 before the end of the season. Last weekend, I searched out and added all the new albums of holiday songs (or #holidaysongs, as I've tagged them on Twitter) and listened to them straight through once before adding them to the ongoing shuffle. These are the ones I thought were the best:
Nick Lowe, Quality Street: It opens with a rockabilly version of "Children, Go Where I Send Thee," then quickly settles into a humorous but groovy tone with songs like "Christmas at the Airport," "The North Pole Express," and "Hooves on the Roof." There's some fantastic horn and organ riffs behind the guitars on Lowe's "Silent Night," for example, and though some critics have sensed a bit of ska in his cover of Wizzard's "I Wish It Could Be Christmas Every Day," it feels a little bit more late '50s rock to me. Out of all the 2013 holiday albums, this might just be my favorite.
Elizabeth Mitchell, The Sounding Joy: A Smithsonian Folkways collection of "Christmas songs in and out of the Ruth Crawford Seeger songbook," as it says on the cover. It starts out with Mitchell and a children's chorus on a gorgeous a cappella plus hand claps version of "Oh, Mary and the Baby," with just a bit of flute and percussion for the bridge, and then she brings acoustic guitar in for "Mary Had a Baby" that's equally beautiful. So many great cuts here, but probably my favorites (after those two) are the deeply soulful "Mary Was the Queen of Galilee" with Gail Ann Dorsey and Joan Osborne and the closing track—a lively version of "Children, Go Where I Send Thee" that becomes a parade of guest stars.
Quire of Voyces, Christmas with the Quire of Voyces: This is a choir associated with Santa Barbara City College, and they've been recorded with a clear, beautiful sound. Some standout cuts for me included "The Cherry Tree Carol" and "In Judah's Land," but they're all quite good; if you're looking for a quiet, contemplative holiday record to play in the background, this is perfect.
6 December 2013 | listen to this |
A few years ago, I got the idea that I should read "The Chimes," Charles Dickens's other famous Christmas story. I found a free digital edition on Project Gutenberg, downloaded it to my iPad, and started reading one afternoon. I hadn't made it very far in when I was distracted by a phone call, and then I remembered a bunch of other reading I had to do for work—the upshot being that I didn't came back to "The Chimes" until the following December. Didn't finish it that year, either, although I made it further than the previous effort. Last year, I almost reached the end of the first quarter.
My adult holiday traditions, such as they are, just haven't involved reading—and the reasons for that are rooted in the one exception that I can remember. At the end of my first semester in college, I was called home the night before final exams when my father's truck slid off an icy patch of road and into a tree. He died the next day, and that holiday season became a long cycle of grief and frustration.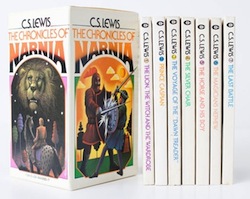 I was still sharing a bedroom with my brother (when I was home, anyway); at some point, I hit upon his boxed set of C.S. Lewis's The Chronicles of Narnia. I'd never read the series—as a teenager, I'd been more into science fiction than fantasy—but I needed a distraction, so I opened The Lion, the Witch, and the Wardrobe and began reading. In retrospect, a story about young children torn from their parents who find refuge in a magical kingdom seems a bit on the nose. At the time, though, Aslan was just what I needed—and even though I read all seven books before it was time to go back to school, I confess Aslan rising off the table is my only firm memory from any of it.
6 December 2013 | better bookends |
Next Page »