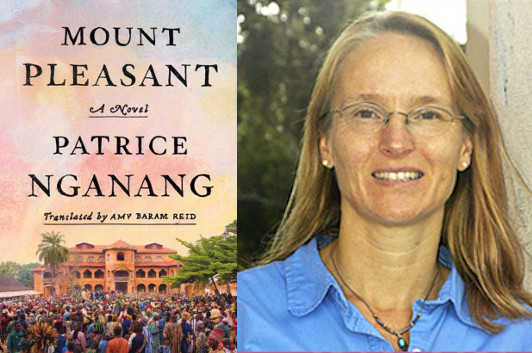 photo: courtesy Amy Reid
Lately, whenever I can steal a few moments to read uninterrupted, I've been diving into Patrice Nganang's Mount Pleasant, as translated by Amy Baram Reid. It's a fantastic novel, set in colonial-era Cameroon, but with an early 21st-century frame that allows for an imaginative reinvention of the past, playful without ever losing its darker edges. As Reid notes, there's a lot going on in this book for one translator to take on, but I'm delighted by how she's pulled it off so far, and eager to take the rest of the journey with her.
One of the phrases I remember from childhood—and maybe you do to—is "little pitchers have big ears." It amused me then because of the incongruity of the image (a pitcher with ears?) and also for its truth: kids soak up what they hear, even if the words aren't meant for them. It also describes the narrative premise of Patrice Nganang's Mount Pleasant: for if one kid hadn't been a sponge for all she had overheard, the stories of Mount Pleasant would have been lost forever.

At the heart of Mount Pleasant are the intertwined issues of conversation and translation: conversations in the present between the elderly Sara and the young Bertha, themselves translations of exchanges years before between another Bertha and the same Sara, a young girl who was transformed by stories into a young boy, Nebu. Conversations and stories swirl magically in the court of the Sultan Njoya and, years later, resurface to enchant both the idle youth of Yaoundé and the novel's readers. Artists discuss aesthetic ideals and lovers their amorous exploits; ambitious plots are revealed and scars disclose traumas born in silence.

Exchanges in the novel take place in multiple languages, and often on the borders between French, English, and German, between Shümum, Shüpamum, and Ewondo. Writing, drawing, and sculpture become the sites where tales and visions are translated—allowed to travel across time and space, as well as language. This concatenation of words and languages made my experience of translating Nganang's novel exceptionally challenging and rewarding.
8 June 2016 | in translation |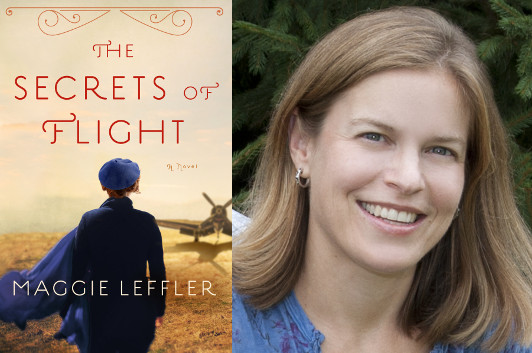 photo: Hills Studio
I first got to know Maggie Leffler just over nine years ago, when her debut novel, The Diagnosis of Love, came out. Now I'm reading her third book, The Secrets of Flight, and I'm hooked by its interlocking stories about two young women trying to figure out who they want to be… and how to become it—but also, as you'll see, what happens years later, after the choices you've made and the circumstances you can't control. Now, one of the reasons it's been so long since a follow-up to Leffler's first two books is that she has a full-on career as a family physician, but as you'll learn in this guest essay, it also took her longer than she'd anticipated to find the right shape for this particular narrative. She did, though, and that's great news for us.
Madeleine L'Engle once wrote, "I think that all artists, regardless of degree of talent, are a painful, paradoxical combination of certainty and uncertainty, of arrogance and humility… and yet with a stubborn streak of faith in their own validity no matter what." Over the last six years of writing my third novel, these words have never felt truer.

In 2009, after reading about President Obama honoring World War II's forgotten "fly girls" with Congressional Gold medals, I set out to write a family saga from four points of view, including that of a Women Airforce Service pilot (WASP). After it was completed in 2012, my agent sent The Secrets of Flight out to a round of rejections. The manuscript was overstuffed with characters, and, to boot, one of them, Jane, was unlikable (poor Jane!). Two drafts later, after the novel went out again—sans Jane—to be met with more rejections, I was in despair, yet compelled to keep writing all the same. Sometimes it's not conviction urging me onward, but the story itself that needs to come out before I'm consumed.

That same summer, I confessed to my husband a secret dream of mine since the age of fourteen: I wanted to make a film, but I was scared to learn how. What if my attempts were awful? He pushed me to take a class at Pittsburgh Filmmakers, which gave me a different perspective for the book—or at least a healthy break from it. With each passing year, it became easier to kill another darling.

Soon the novel belonged to the two main characters I'd conjured up in the very beginning: Mary, the former WWII pilot with a secret, and Elyse, the big-hearted teen who would save her. Another distinct point of view also emerged, that of the young pilot's… except that I had no idea what it felt like to have flown planes during the war. Finding the answers led to a friendship with Florence Shutsy-Reynolds, a Women Airforce Service pilot who inspired me with her stories. Finally, in 2014, the novel was ready for another round.
8 May 2016 | guest authors |
Next Page »